Pastel sneakers from
VEJA
, a French footwear company that I
think
is fair trade, but it's kinda hard to tell because Google Translate is not foolproof.
Example
: "The action is rare and abounding verb. [...] That between the organic fair trade, which joins economic, environmental and social development." I'm pretty sure that I understand what they're getting at, but not 100% sure.
I'm posting sneakers because I've been scouring the internet for ethical athletic shoes. Yesterday I went running for the first time in literal years, and remembered what I used to love about it. I had forgotten the feeling of physical mastery when you settle into your stride, and the tired euphoria when you finish. At the beginning of 2014, I
vaguely pledged
to Get More Exercise, but this is my first concrete step toward that goal.
The most athletic period of my life was the summer before junior year of high school. I started running during that July, and astonished myself by liking it. I was adjusting to Prozac, which came with a new abundance of energy. Some of it got channeled into bounding up suburban hills before dawn. Unfortunately, I couldn't sustain the habit after school gained momentum, and I lapsed into my natural torpor. It didn't help that the Prozac dosage was losing its effect. (Yeah, it does that. FYI, I'm no longer on Prozac. Whattup, Effexor.)
One of my early exercise goals was to get thinner, hoping in vain to be/feel more attractive. My views have changed significantly since then, with respect to other people's bodies as well as my own--I think it's tragic that we're taught to berate ourselves for being physically present--and now I want to exercise because it's super healthy.
Working out is great for your mood
, and then there's this chart from
OkTrends
: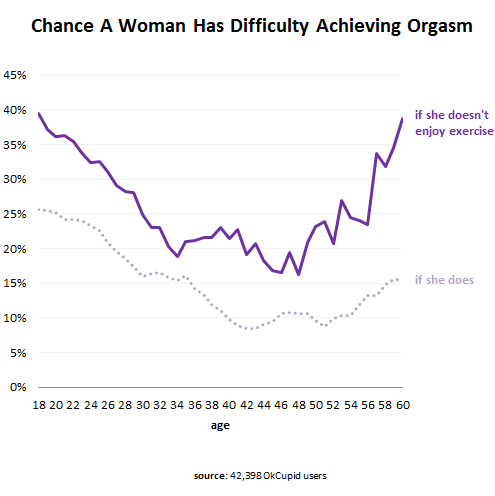 The first time I saw that, I thought of eight zillion reasons why it could be dismissed, but reality is that many sources support the idea that regular exercise leads to an improved sex life. Not that I want to talk about sex. I want to talk about
how goddam difficult
it is to find a running shoe that I won't feel guilty about buying. Even
Patagonia
, a brand that's considered relatively sustainable, only offers Chinese-made shoes. I'm not inherently opposed to Chinese manufacturing, but even given
Patagonia's corporate responsibility statement
, I feel uncomfortable.
Sportiva reassures me a little more
, so I'm considering
these "Helios" trainers
:
However, it's difficult for me to commit to spending more than $100 on anything, so I might check out the thrift shop first and see if I can get lucky. Don't look at me like that! Sneakers are washable!