No, not coquettish milkmaids in saucy skirts! What kind of wench do you think I am?
"This is a helmet based on surviving Vendel and Valsgärde helmets of the 7th century. Such a helmet would have been part of a splendid panoply of richly decorated arms, armour and fittings worn and used by the highest members of a powerful warrior elite. The helmet is enriched with decorative and figurative pressblech scenes of a mythological nature and is topped by a stylized boar crest, which may have been a talismanic reference to the golden boar of the Germanic war god Freyr."
Okay, but let me backtrack for a second. Recently I started working with
Patricia Bracewell
(who didn't ask me to write this, FYI). She's an up-and-coming historical novelist and of course is phenomenally busy working on the sequel to her breakout book,
Shadow on the Crown
. Despite the literary hustle, Pat has been curating a set of
Pinterest boards
on topics like
Vikings
and
armor
.
So lately I've been spending more time than usual looking at medieval swords and whatnot (which has been a blast, because obviously). And that's how I came across
Royal Oak Armoury
, "a Canadian company that produces well-researched armour replicas for discerning customers." All of their pieces are handcrafted using authentic materials and methods. THAT IS SO COOL. And the end results are gorgeous. Check 'em out on
Etsy
,
deviantART
, and/or
Facebook
. [Each of the following images is linked to where I found it. When I appended a quote/description, that came from the same place.]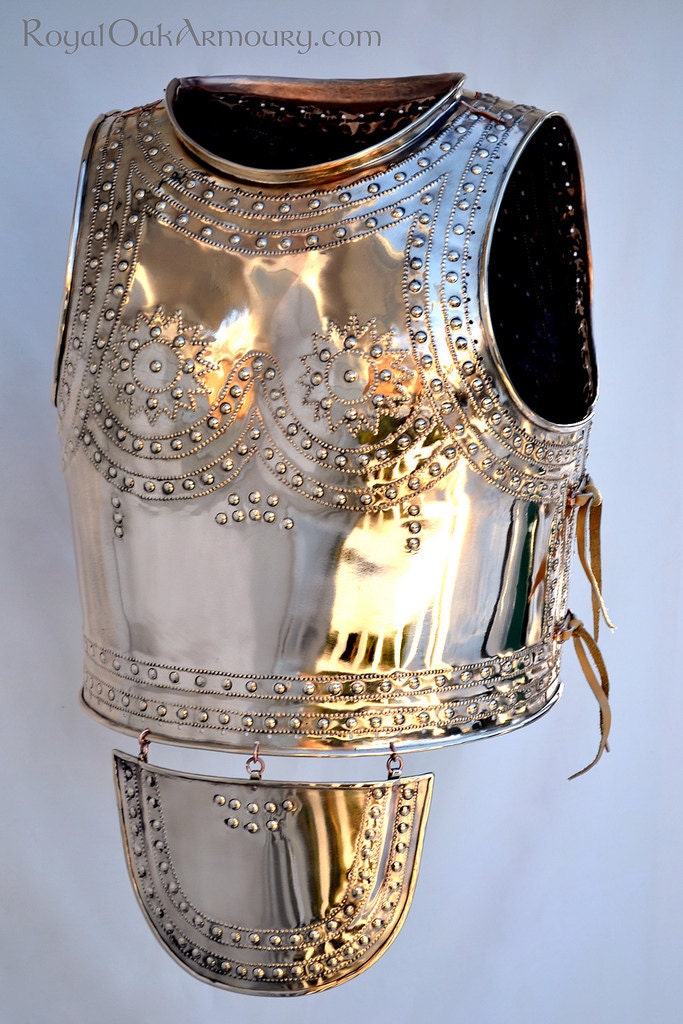 "Tibetan helmet, of a type used from the 8th – 16th centuries. Helmet skull made of eight plates laced together with leather, with an attached skirt formed from the type of lamellar known as 'willow leaf.' Surprisingly well-preserved examples of these helmets still exist in Tibetan monasteries, having been acquired and maintained by the priesthood from warriors who took vows."
"Construction of the spiked gadlings and other finger elements is based on the funerary achievements and effigy of Edward, the Black Prince, in Canterbury Cathedral."